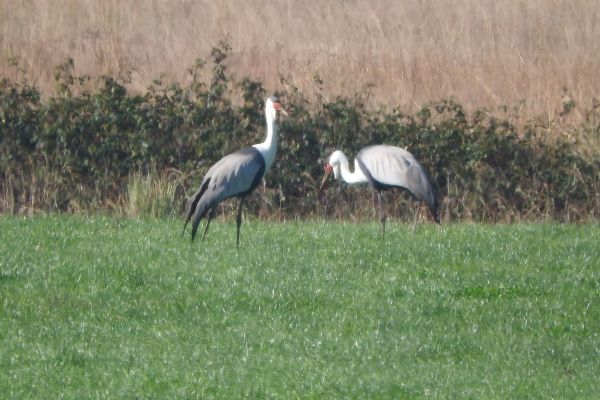 Karkloof area, 22-23 May
On 22 May my bird photographer guest (from Germany) and I flew to Durban, having spent 10 days looking for Western Cape endemics. We drove directly to Karkloof. The aim in KZN was to photograph Wattled Crane and Southern Bald Ibis, and then as many southern African endemics and specials (any species not already photographed in East or West Africa!) as possible.
At Karkloof Crane Conservancy it was misty and there was no sight of our target species. There were Crowned Cranes, various ducks, Wattled Lapwing, Wattled Starling, Greater Striped Swallow, and other species. The next morning (23 May) was sunny and we searched the Karkloof area for 1.5 hours. We had great views of a flock of 15 Cape Canaries.  Back at the Karkloof entrance we found a foraging Southern Bald Ibis, a Southern Grey-headed Sparrow and a pair of Wattled Cranes. We spent 15 minutes watching the pair from quite a distance, when they took off, circled, and flew off.
We then visited Umgeni Valley Nature Reserve where we observed African Harrier-Hawk (flying), Brown-backed honeybird, 3 sunbirds (Collared Sunbird, Amethyst Sunbird, White-bellied Sunbird) and 3 weavers (Spectacled Weaver, Village Weaver, Dark-backed Weaver). The Dark-backed Weaver was foraging with a pair of Southern Black Tits.
In the late afternoon we returned to Karkloof, hoping to see Wattled Crane again. They were not present, but we enjoyed the spectacle of 43 Crowned Cranes coming to roost. We also saw quite a few ducks, including White-backed Duck, South African Shelduck, and Cape Shovelor. Black Crake foraged in the open, but African Rail was only heard.
Drakensberg, 24-25 May
On 24 May we drove to Giants Castle Game Reserve. A pleasant morning was spent ticking and photographing new birds. Endemics included Southern Bald Ibis, Jackal Buzzard, Southern Boubou, Drakensberg Prinia, Cape White-eye, Buff-streaked Chat, Ant-eating Chat, Greater Double-collared Sunbird, and Cape Longclaw. Other specials included Red-necked Spurfowl, Cape Batis, Bokmakierie, and Cape Glossy Starling. A small flock of non breeding Yellow Bishop was easily recognised by the bright yellow patches of the males.

Raptors (Jackal Buzzard and Rock Kestrel) on telephone poles in this area were very obliging and did not fly off quickly, as they did in the Western Cape.
We overnighted at Dragons Peak Mountain Resort where we found African Black Duck, Olive Pigeon, At the entrance we had great views of Southern Bald Ibis, Gurney's Sugarbird, and Amethyst Sunbird. Other species seen included Hoopoe, Giant Kingfisher, small flock of White-fronted Bee-eaters, Black-headed Oriole, Black Sawwing, Common Starling (disconcerting!), Spectacled Weaver, Cape Weaver, Yellow-fronted Canary and Brimstone Canary.
Later on 25 May we drove to Pinetown to stay at Butterscotch BnB, a place really good for birding while having breakfast the next morning! Here we photographed our first Purple-crested Turaco for the trip. There were also sunbirds, weavers and other species.
Mkuze Game Reserve, 26-29 May
On 26 May we drove to Mkuze Game Reserve, where we spent 3 nights. We spent the days visiting the different hides in mornings and afternoons. To a lesser extent we also photographed birds along the roads to the hides, and in Mantuma campsite.
At Kumasinga Hide we observed a group of 16 loafing White-backed Vultures. Twice copulation was observed. Also at this hide we photographed Purple-crested Turaco on the ground coming to drink at the pan. One morning a Little Sparrowhawk was photographed resting in a tree at the pan.
At kwaMalibala Hide we saw large numbers of seedeaters coming to drink – Golden-breasted Buntings, Blue Waxbills, Lesser Masked Weavers, Red-billed and African Fire-finches, Yellow-fronted Canaries, and Green-winged Pytilia. A flock of calling Quailfinch flew over more than once but were not seen to drink. A pair of Wire-tailed Swallows sipped water from the pan while in flight, and perched on the roof of the hide. Neergaards Sunbird was seen here regularly, the male having a red breast (not maroon as in Purple-banded and Marico Sunbirds).
KuMahalala Hide had a variety of birds, including 4 "bulbul" species – Sombre Greenbul, Yellow-bellied Greenbul, Terrestrial Brownbul, and Dark-capped Bulbul. Crowned Hornbills were often seen, and once Trumpeter Hornbills flew over. Waxbills and weavers fed on the grass seeds along the river.
In Mantuma camp we found Red-billed Woodhoopoe, Acacia Pied Barbet,
Black-collared Barbet, Red-faced Mousebird, White-crested Helmetshrike, Black-backed Puffback, Gorgeous Bushshrike (heard only), White-browed Scrub Robin, Yellow-breasted Apalis, Red-billed Oxpecker, Pale Flycatcher, Yellow-throated Petronia, and others.
St Lucia, 29-30 May
From Mkuze, we drove to St Lucia for a night to do some birding in the village area. Here we had good views of Crested Guineafowl, White-eared Barbets, Palm Swift, Red-capped Robin-Chat, Southern Black-Flycatcher, Collared and Olive Sunbird, and Spectacled and Thick-billed Weavers. Before dawn an African Wood Owl was calling at iLanda Lodge where we were staying.
Durban, 30-31 May
As our flight back to Cape Town was on 31 May we wanted to be closer to the airport on the last night, so we stayed at Butterscotch BnB again. On 30 May afternoon we visited the Durban Botanical Gardens. We were surprised to see a Palm-nut Vulture fly over, too quick for a photo. At the pond were 3 Woolly-necked Storks, Grey Heron, Black-headed Heron, and other waterbirds. The fever tree had lots of old nests of the Village Weaver – there was a  male in full breeding dress, and 2 in partial dress. A flock of Speckled Mousebirds feeding on the lawn included one bird that was leucistic (very pale grey-white). We also saw African Paradise Flycatcher, Southern Black Tit, Southern Black Flycatcher, and Fork-tailed Drongo.
On the last morning there was time to bird in the BnB garden and nearby open space. Some daisy like flowers attracted 2 Rose-ringed Parakeets, Village Weaver and Streaky-headed Seedeaters. Other birds included Tambourine Dove (flying past), Purple-crested Turaco, African Goshawk (calling overhead), Brown-hooded Kingfisher, Crested Barbet, White-eared Barbet, Black-collared Barbet, and Dusky Flycatcher.