It was raining when I met my bird photographer guest (from Germany) at Cape Town International Airport on 15 May. The aim was to photograph as many southern African endemics and specials (any species not already photographed in East or West Africa!) as possible. We visited Strandfontein in the afternoon as it is possible to photograph birds from the vehicle whenever the rain let up. Cape Shovellor was easily photographed, the first southern African endemic for the trip.
[endemics – birds endemic to southern Africa are listed in red]
Overberg
16-18 May were spent in the Overberg, the first target being Blue Crane, an endemic to southern Africa and national bird of South Africa. On the way to Bredasdorp we found many, and in one field they were dancing. A brief stop at the entrance to the Caledon Botanical Gardens yielded Pin-tailed Whydah and Brimstone Canary.
The most common raptor was Jackal Buzzard, many perched on the telephone poles. We also photographed a male Southern Black Korhaan near De Hoop NR. On the De Mond NR road and in the reserve we had good views of Malachite Sunbird, Cape Crow, Denham's Bustard, Large-billed Lark, Black Harrier, and Capped Wheatear. A short stop in Kleinmond produced Cape Spurfowl and Cape Sugarbird.
On an early morning walk at Rooi Els there was a group of Ground Woodpeckers on the rocks near the road, providing excellent views, and they were still present on our return walk. We found a Cape Rockjumper that stayed far from the road. On our return walk, we found one in the path near the woodpeckers. This one provided amazing views! We also saw a flock of 11 Hadedas flying over in loose V formation, Cape Rock Thrush, Orange-breasted Sunbird and Yellow Bishop. From the path we could see a Giant Kingfisher on the rocks on the coast.
At Stony Point we photographed all 4 marine cormorants, many of them on active nests. This added more endemics: Crowned Cormorant and Bank Cormorant, as well as African Penguin and Hartlaub's Gull. Interestingly, there were at least 9 Water Thick-knees, and also Familiar Chats. At Harold Porter Botanical Gardens we found Southern Double-collared Sunbirds, many Swee Waxbills, an African Black Duck, Southern Boubou, Amethyst Sunbirds and Streaky-headed Seedeater.
Cape Peninsula
On 19 May we first visited Kirstenbosch where we found more endemics: Southern Double-collared Sunbirds, Karoo Prinia, Forest Canary, Cape White-eye and Cape Grassbird, and also added Olive Pigeon and Lemon Dove. At Intaka we added Malachite Kingfisher, Purple Heron, the usual waterbirds, Cape Canary and Lesser Swamp Warbler foraging on the lilies for perfect photos. At Jack Muller Park we photographed White-backed Mousebirds and an Acacia Pied Barbet, Cape Weaver and Southern Masked Weaver (male in near full breeding dress).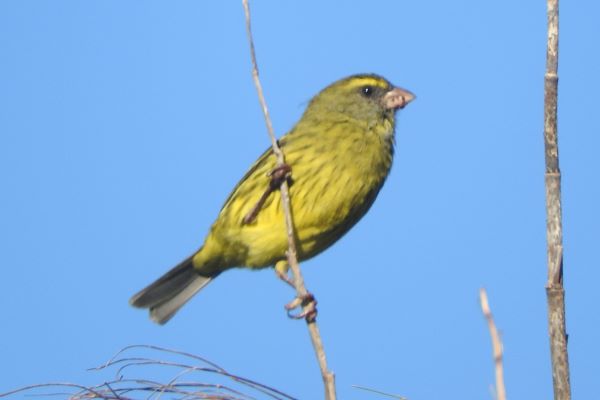 West Coast
On 20 May we travelled to the West Coast National Park in the rain (but it soon cleared). We first stopped at Rooipan in Yzerfontein where we photographed Cape Bulbul and other species.  In the WCNP we found African Oystercatcher, Grey-winged Francolin, Chestnut-vented Warbler (Tit-babbler). White-fronted Plover and Kittlitz's Plover, as well as more sightings of Southern Black Korhaan. We also saw Grey Plover, Curlew, Greenshank, Black-winged Kite (6 were hovering together at 1 spot!), and others. At Tienie Versfeld NR we saw Cape Longclaw but did not get photos. We did photograph Red-capped Lark and other species. A drive along the Silverstroom road provided good photos of Rock Kestrel.
More Cape Peninsula
On 21 May we visited Rondevlei where we found South African Shelduck, Caspian Tern, Purple Swamphen and others.  At Strandfontein (this time with clear weather!) we obtained better photos of South African Shelduck, Southern Pochard, Maccoa Duck, and many other waterbirds. A late afternoon visit to the Tafelberg Road gave good photos of birds already seen: Cape Rock Thrush, Cape Sugarbird and Orange-breasted Sunbird.
We then visited KwaZulu-Natal for 10 days, and then spent a few more days birding from Cape Town.
On 1 June we visited Kommetjie and Cape Point where we had excellent views of Bokmakierie and Cape Bunting. A short stop near the Strandfontein Pavillion quickly produced the out-of-range Dusky Sunbird that had been found here a few days earlier. At Helderberg NR we had perfect views of Black Crake, Fork-tailed Drongo, Cape Sugarbird, Malachite Sunbird. We also saw Common Waxbills and Red-faced Mousebirds but did not get photos.
Karoo
On 2 June we drove to the Karoo, first stopping at the Karoo Desert Botanic Gardens where Southern Double-collared Sunbirds were feeding on quivertree nectar.
We then passed Robertson to arrive at Vrolijkheid NR which was unfortunately closed. Nevertheless we birded around the offices and along the road next to the reserve to add Wattled and African Pied Starlings, Karoo Scrub-Robin, White-throated Canary, and others.
After lunch we drove to Dassieshoek NR, north of Robertson where we photographed lots of birds around the entrance. Olive Pigeons posed in the sun. Olive Thrush (not Karoo Thrush!) was photographed for the first time on this trip, although seen several times previously. Again we found Cape Rock Thrush, Fiscal Flycatcher and other species.
Final Cape Peninsula
On 3 June we stopped at Die Oog for Cape Weavers but the colony was not active – we did photograph the Spotted Thicknees. We again visited Rondevlei and Strandfontein. At Strandfontein we finally added photos of Common Waxbill and Cape Longclaw. Although not a target species, we also saw the rarity that had been there for a few days – a female Comb Duck. We also had good views of White Pelican, a flock of White-faced Ducks, African Spoonbill, African Marsh Harrier, Spotted Eagle Owl, Black-winged Kite, and Cape Weaver.