Longevity in southern African weavers
This table lists longevity records in southern African weavers. Records are updated on an irregular basis. Records are from SAFRINGs database (ring number given in brackets) or from published literature. Longevity records are given as y (years) m (months) d (days). Where greater records are found in captive birds, these are shown in the last column.
Scroll to bottom for some longevities of weavers found outside southern Africa. See here for longevities of birds (weavers and other species) in southern Africa.
Most recent record: Yellow Bishop – male 13y 8m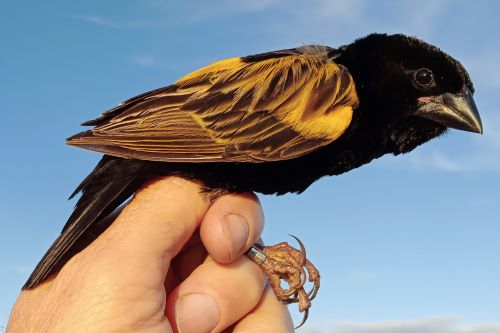 Species
  Latin
  Longevity
  Captive/Other notes
  Red-billed Buffalo-Weaver
Bubalornis niger
9y 9m 25d (D55851)
See news here
  Scaly-feathered Finch
Sporopipes squamifrons
5y 1m 21d (GA28835)
Previous: 4y 9m 17d (AD76908)
  White-browed Sparrow-Weaver
Plocepasser mahali
11y 3m 22d (BC96612); new record 4H25339
Previous: (50205781), Milstein 1975
  Sociable Weaver
Philetairus socius
15y 3m 8d (BC42438)
Covas 2012a
See news here
  Lesser Masked Weaver
Ploceus intermedius
9y 0m 12d (AE94754)
See news here
19y (Davis 1945)
  Spectacled Weaver
Ploceus ocularis
12y 7m 8d (CC64467)
13.5+ y (Hanmer 2009)
2 months more than previous (BB38355)
  Cape Weaver
Ploceus capensis
14y 11m 18d (CV23341), see news here
Previous 13y 7m 25d – see news here
  Eastern Golden Weaver
Ploceus subaureus
12y 0m (BH12812)
7.5+y (Hanmer 1981)
See news here
  Golden Weaver
Ploceus xanthops
10y 6m 24d (4A02074)
  Southern Brown-throated Weaver
Ploceus xanthopterus
12y 5m 20d (AA41145)
13y (Hanmer 1989)
  Southern Masked Weaver
Ploceus velatus
15y 4m 13d (BB75791)
>23.5 y (del Hoyo et al. 2010)
  Village Weaver
Ploceus cucullatus
13y 11m 10d (CC05299)
14y 2m (Craig 1982)
24y (Collias et al. 1986)
  Chestnut Weaver
Ploceus rubiginosus
3y 3m 1d (BH15335)
  Dark-backed Weaver
Ploceus bicolor
5y 3m 23d (BH34002)
5.5 y (Hanmer 2009)
See news here
10+y (Seibt et al. 2002)
  Bertrand's Weaver
Ploceus bertrandi
3y 11m 22d (BC03209)
  Olive-headed Weaver
Ploceus olivaceiceps
  Red-headed Weaver
Anaplectes rubriceps
9y 3m 3d (BC07566)
11+ y (Hanmer 2009)
  Cardinal Quelea
Quelea cardinalis
0y 0m 7d (AC17177)
  Red-headed Quelea
Quelea erythrops
7y 9m 23d (AB97311)
  Red-billed Quelea
Quelea quelea
7y 4m 2d (FH14281)
See news here
10y 0m (Craig 1982)
18.75 y (Butler 1913)
  Yellow-crowned Bishop
Euplectes afer
5y 10m 17d (AM31231)
>20 y (Adlersparre 1938)
  Fire-crowned Bishop
Euplectes hordeaceus
0y 10m 6d (60178430)
7y (Hanmer 1983)
>10 y (Adlersparre 1938)
  Southern Red Bishop
Euplectes orix
15y 2m 10d (FA05661)
See news here
  Yellow Bishop
Euplectes capensis
13y 8m (BC12483)
18y 10m (Donnelly 1965);
Previous 11y 1m – BC46067
  Fan-tailed Widowbird
Euplectes axillaris
14y 10m 14d (F51655)
Previous BD20152 (9y 6m) but overlooked F51655
  Yellow-backed Widowbird
Euplectes macrourus
2y 2m 21d (AC14661)
  White-winged Widowbird
Euplectes albonotatus
9y 11m 28d (F51159)
9y 11m 13d (Oschadleus & Brooks 2005)
Previous: 8y 10m 29d (F60985)
  Red-collared Widowbird
Euplectes ardens
8y 11m 5d (FA19487)
Previous 8y 9m 12d (AF22252)
  Long-tailed Widowbird
Euplectes progne
1y 10m 7d (FB34723)
Previous: 1y 3m 18d (FA08178);
Captive: nearly 18y (Schifter 1970)
  Thick-billed Weaver
Amblyospiza albifrons
21y 6m 2d (493950)
See news here
9+y (Hanmer 1989)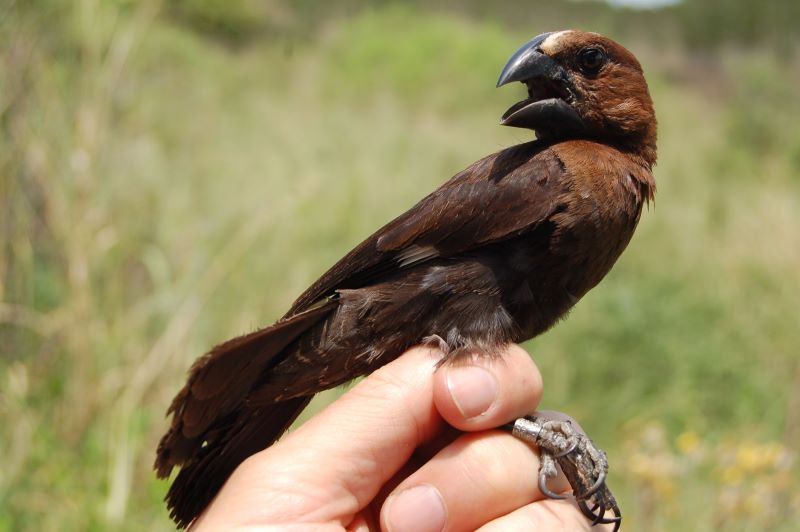 References:
Adlersparre A. 1938. Erscheinungen des physiologischen Alterns bei Voegeln. Ornithologischen Monatsberichte 46:176-177
Butler AG. 1913. Longevity in captivity and deaths of old friends. Avicultural Magazine 4:367-370
Collias NE, Collias EC, Jacobs CH, Cox CR, McAlary FA 1986 Old age and breeding behaviour in a tropical passerine bird under controlled conditions. Auk 103:408-419
Covas R 2012 The benefits of long-term studies: 16-year old sociable weaver caught at Benfontein Game Reserve. Afring News 41:11-12.
Craig A 1982 Mortality rates of some South African Ploceidae. Ostrich 53: 54-57
Davis M 1945 Longevity record of Black-cheeked Weaver. Auk 62:451-452
del Hoyo et al. 2010. Handbook of the Birds of the World. Vol 15. Lynx Edicions, Barcelona
Donnelly BG 1965 Longevity in the Yellow-backed Bishop, Euplectes capensis, in captivity. Ostrich 36:145
Hanmer DB 1981 Longevity from retraps. Safring News 10:12-22
Hanmer DB 1983 Longevity from retraps continued. Safring News 12:56-64
Hanmer DB 1987 Getting older in Malawi. Safring News 16:73-78
Hanmer DB 1989 The end of an era – final longevity figures for Nchalo. Safring News 18:19-30
Hanmer DB 2009 What is the longevity of birds in the Eastern Highlands? Honeyguide 55(1):41-44
Manson AJ 1982 Longevity from retraps [letter]. Safring News 11:27-33
Milstein P le S 1975 The biology of Barberspan, with special reference to the avifauna. Ostrich Supplement 10: 1-74
Oschadleus HD, Brooks M 2005 Report on recoveries received at SAFRING: July 2003 – June 2004. Afring News 34:34-40
Schifter H 1970 Longevity in the Longtailed Widowbird in captivity. Ostrich 41:255
Seibt U, Wickler W, Kleindienst H-U, Sonnenschein E 2002 Structure, geography and origin of dialects in the traditive song of the forest weaver Ploceus bicolor sclateri in Natal, S. Africa. Behaviour 139:1237-1265
Yom-Tov Y, McCleery R, Oatley T 1994 The survival rates of some southern African passerines. Ostrich 65:329-332
Longevity in weavers outside of southern Africa
Asian Golden Weaver Ploceus hypoxanthus – 9y 11m 
2A16403 (later replaced with 3B00355), ringed as adult male on 3 Aug 2001, Bangkok
Retrapped on 7 July 2011 as healthy male
Age since first catch 9y 11m 4d [but at least 11 y old as caught as breeding adult]
Source: Andy Pierce, Conservation Ecology Group; KMUTT
Madagascar Fody Foudia madagascariensis – c 8y
8y, see f/b here.
Seychelles Fody Foudia sechellarum – 16y 7m
16y 7m 17d, see here.
Also 14y 2m 25d, with several at least 9 years old – see here.
Baglafecht Weaver Ploceus baglafecht – 7y 10m
7y 10m 2d, ringed as adult, thus >8y – see here.
Sao Tome Weaver – 5y 8m
5y 7m 22d, ringed as adult – see ring FA62377.
Giant Weaver – 1y 3m
1y 2m 26d, ringed as adult female – see ring 4A79572.
Black-necked Weaver Ploceus nigricollis – 7y 7m
A bird ringed on 14 Apr 2012 was recaptured on 31 Oct 2019 – this translates to an elapsed time of 7 years 6.5 months (Demey R 2020 Recent Reports. Bulletin of the African Bird Club 27(1):103-124).