PHOWN, PHOtos of Weaver Nests, is a Virtual Museum, citizen science project at the University of Cape Town, to collect and monitor breeding distributions and colony sizes of weaver birds globally. To take part, register and upload records at Virtual Museum (read the "How to" pdf for help).
Over the last decade, 454 observers have contributed 29409 records but 50% of these records were submitted by one person – Pieter Cronje, a human rights lawyer. Pieter has travelled far and wide in Africa, Asia and the Indian Ocean islands and has found many weaver nests. In a recent BDI Citizen Scientist video entitled "PHOWNing the police in Africa and Asia" Pieter tells some of his fascinating stories.
Monkeys raiding weaver nests
The paper that Pieter mentioned about observing Vervets raiding weaver nests may be downloaded at:
Cronje P. 2013. Raider of the Baglafecht Weaver nest: Vervet Monkey. Ornithological Observations 4:131-132.
In this paper Pieter Cronje describes a Vervet Monkey raiding some nests of the Baglafecht Weaver Ploceus baglafecht in Kenya. Pieter had submitted a PHOWN record for the colony a few days earlier, and he promptly sent in a repeat record when he saw the monkey with a nest. Pieter includes photos of the colony and of the monkey in this paper.
Vervet Monkeys have been recorded as raiding nests of Southern Masked Weavers and Lesser Masked Weavers previously.
Some highlights of Pieter's PHOWN records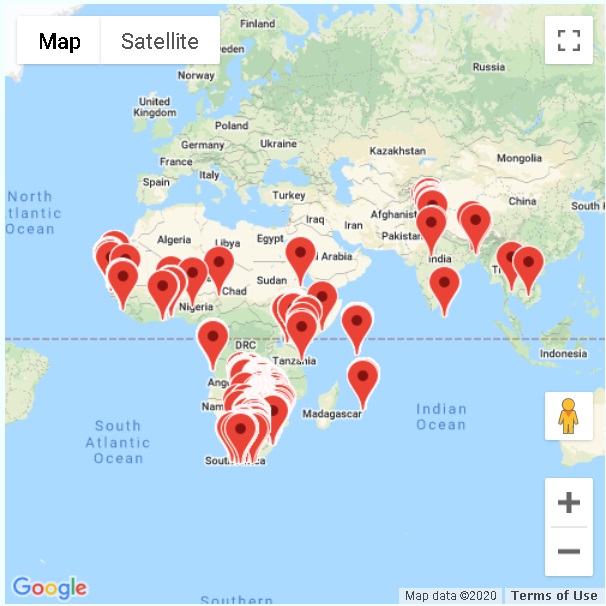 Pieter has submitted records for 30 weaver species, with 4 species having over 1000 records: White-browed Sparrow-Weaver (5364), Southern Masked Weaver (5012), Village Weaver (1140), and Red-billed Buffalo-Weaver (1073). Pieter described a decline of Baya Weavers in Bangladesh(see here). Most of Pieter's records contain the number of nests, providing a very valuable contribution to the variation of colony sizes in weavers.
Pieter provided the first PHOWN records for several countries, including Nigeria, Eritrea, Bangladesh, and Cambodia. Some of the many extensive areas surveyed by Pieter are Pretoria, Durban, N3 in Free State, and Seychelles.
Thanks to Pieter for his enormous contribution to citizen science!