Birding and ringing at Fynbos Estate, 21-23 September 2020
Two nights holiday at Fynbos Estate yielded a bird list of 43 species while doing some ringing. A pair of Swee Waxbills was the first record of the species at Fynbos Estate, although it has been recorded on the Paardeberg. A bird list is here for the first day and supplement here for the next day.
Ringing
A Common Fiscal with colour rings was observed (from June 2019).
The top species caught was Yellow Bishop (n=14), with nearly half being recaptures from previous trips. One Yellow Bishop was recaptured as an adult male that had been ringed as an immature male 2 years ago – adult males have bright yellow patches in winter, while immatures (and females) have olive patches. Male bill colours vary, usually having a paler patch on the lower bill but one male had a completely black bill.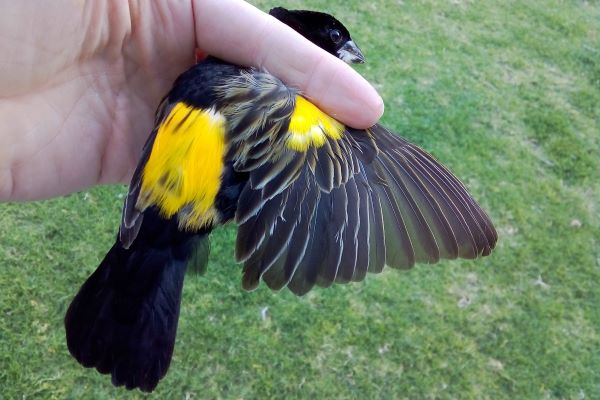 Nine Cape Sugarbirds were caught, without targeting them! A male was caught, and the rest were females.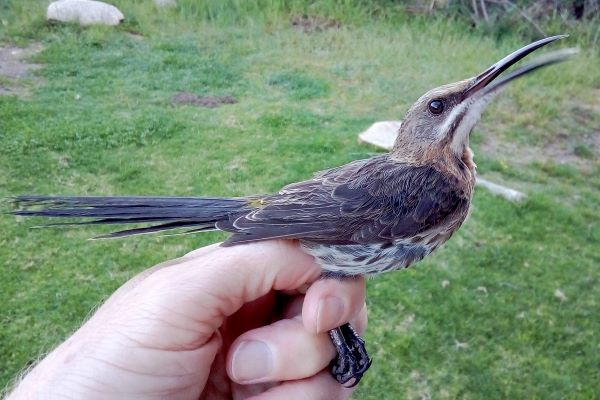 More recaptures
A single Bokmakierie has been ringed at Fynbos Estate to date (on 7 Dec 2019, mass 64g, ringed by Marc) and it was recaptured on 22 Sep 2020 (mass 69g, with brood patch). A Cape Robin-chat ringed on 4 Dec 2019 by Marc was recaptured on 22 Sep 2020 (mass 30g each time). A Southern Boubou ringed on 28 Feb 2019 by Manuel was recaptured on 23 Sept 2020. A Yellow Bishop from my visit ringing trip to Fynbos Estate (May 2018) was also recaptured (photo above).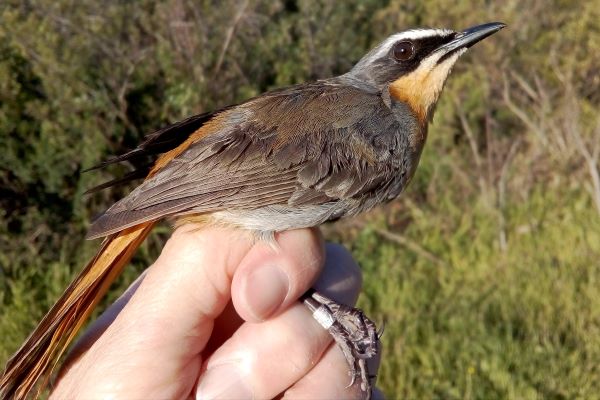 Table – birds ringed 21-23 Sept 2020
| | | |
| --- | --- | --- |
|   Species |   Ringed |  Retraps |
|   Cape Turtle-Dove |   1 | |
|   Cardinal Woodpecker |   1 | |
|   Cape Bulbul |   5 | |
|   Cape Robin-Chat |   2 |  1 |
|   Cape Batis |   1 | |
|   Southern Boubou | |  1 |
|   Bokmakierie | |  1 |
|   Cape Sugarbird |   9 | |
|   Cape Weaver |   11 |  1 |
|   Southern Masked-Weaver |   6 |  1 |
|   Southern Red Bishop |   2 | |
|   Yellow Bishop |   8 |  6 |
|   Streaky-headed Seedeater |   1 | |
|   Cape White-eye |   1 | |
|   Totals |   48 |  11 |
Previous ringing at Fynbos Estate
17-21 June 2019 (Colour ringing)