Swallows are graceful birds and several species fill the Cape Town skies in the summer months.
1. Non-breeding Palearctic migrants
Barn Swallow Hirundo rustica
Barn Swallows arrive in October (a few in September) and most leave in April. These swallows may be seen nearly anywhere on the Cape Peninsula, foraging in small or large groups. At night they congregate in large roosts in the extensive reedbeds at Strandfontein, Rondevlei and Rietvlei. This is one of the most widespread swallow species globally.
Sand Martin Riparia riparia
The Sand Martin is another migrant to southern Africa, arriving from October and departing in March or April. It is scarce in the Western Cape. As it often roosts in reeds with flocks of Barn Swallows, it may be overlooked.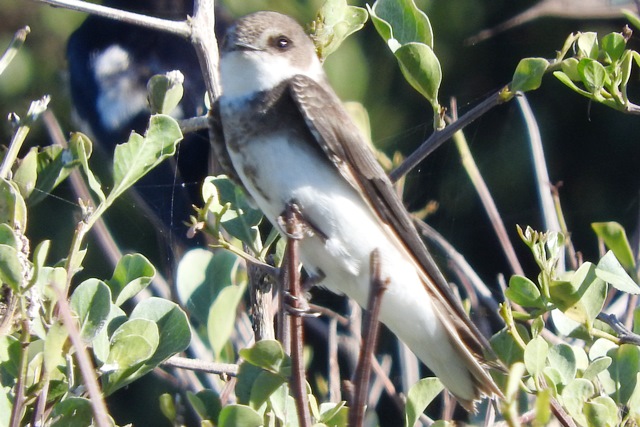 House Martin Delichon urbica
The House Martin is a very rare migrant visitor to the Western Cape.
2. Intra-African migrants
White-throated Swallow Hirundo albigularis
White-throated Swallows are common in Cape Town in the summer months, and they arrive from August (thus arriving earlier than the Barn Swallow. They are intra-African migrants, and breed in South Africa, leaving in April. In Cape Town they build their nests under many of the multiple bridges that cross canals and rivers. These convenient nest sites have resulted in an increase of the White-throated Swallow in the Western Cape. Adults and nestlings have been ringed around Cape Town (see also Swallow survey and Ringing results).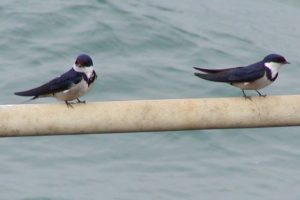 Pearl-breasted Swallow Hirundo dimidiata
The Pearl-breasted Swallow is uncommon in Cape Town. One or two birds may be found in larger Barn Swallow flocks, and are thus easily overlooked. Birds from the Western Cape  breed from August to April. The nest is built in a variety of sites, usually on buildings in the Western Cape, and the abundance of farm buildings has resulted in a slight increase of this species. It migrate northwards in Africa.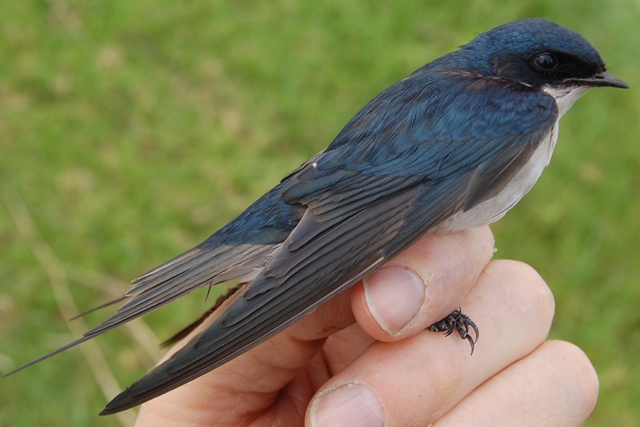 Greater Striped Swallow Hirundo cucullata
The Greater Striped Swallow is common in Cape Town, usually building its elaborately funnelled nest under bridges. It is also an intra-African migrant, and is usually found in pairs. Breeding is mainly from September to April. Its nests may be usurped by the White-rumped Swift, the latter adding feathers to the nest which protrude from the entrance. While present on the Cape Peninsula, it may have slightly decreased in numbers here due to lack of moist mud for nest building (see also Swallow survey).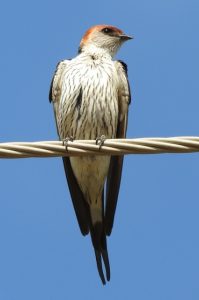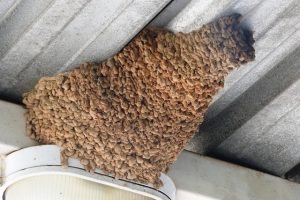 Banded Martin Riparia cincta
There is an isolated population in the Western Cape, but it is scarce on the Cape Peninsula. These migrants arrive in August, earlier than other populations of Banded Martins in South Africa, and leave in March. This species overwinters in central Africa.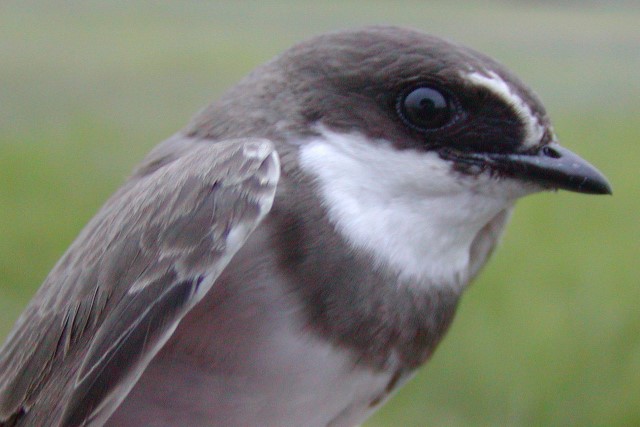 Black Sawwing Swallow Psalidoprocne holomelas
The Black Sawwing Swallow occurs at low density in parts of the Western Cape. Birds seem to leave the Western Cape in June and July, probably moving to KwaZulu-Natal, where it occurs year-round. It is usually encountered in pairs or small flocks of up to about 20 birds. It forages in forest or thick bush, especially near water.
3. Breeding residents
Rock Martin Hirundo fuligula
The Rock Martin is a common breeding resident in the Western Cape, but slightly less common on the Cape Peninsula than in the rest of the province. Nests are open cup nests of mud, usually attached to sheltered rock faces and sometimes man-made structures.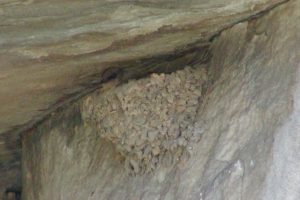 Brown-throated Martin Riparia paludicola
The Brown-throated Martin is a common breeding bird in suitable habitat on the Cape Peninsula. It breeds in small colonies, excavating tunnels in sand banks. It has bred along the Ottery River, at Intaka, Strandfontein, and other sites. In the Western Cape breeding occurs mostly after the winter-rainfall season, with a September–December peak, although there are records for most months of the year.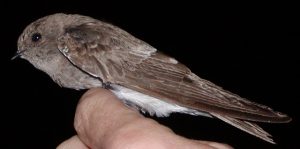 Swallows in Cape Town
If you would like to see swallows in Cape Town, or if you would like to ring swallows, contact Dieter at Birds4Africa!