The leaves, berries, and wood of the syringa tree (or Persian Lilac) Melia azedarach are poisonous to mammals (including humans). It is found naturally in Indomalaya and Australasia, but has been introduced to South Africa and other regions.
The syringa tree was introduced to South Africa in 1906 to the Barberton area, as an ornamental addition to  parks and gardens as they have aromatic and colourful blossoms. It spread quickly across the country, and is also common in Cape Town.
Eating small amounts of the syringa tree will cause paralysis and breathing difficulties and there is no antidote. Birds, however, feast on the berries of this tree.
One tree in a neighbour's garden attracts Red-winged Starlings regularly. Sometimes one or two birds are seen feeding, while on other days a flock of many birds will sing and feed on the yellow berries. The starlings often need to stretch, twist and hang from supporting branches to reach fruits.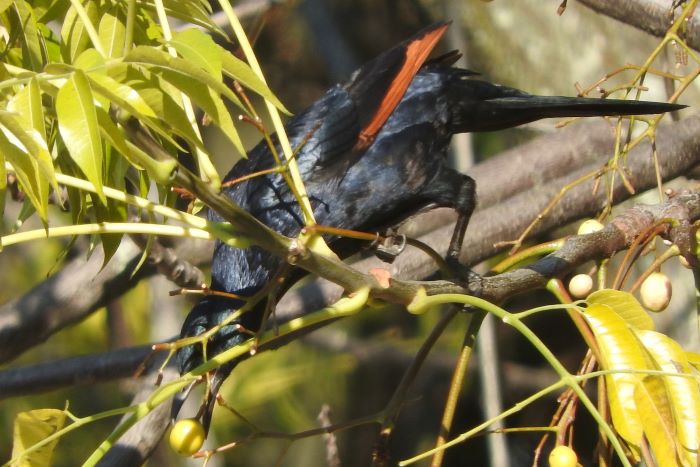 Detaching the fruits is also sometimes difficult, but the starlings do manage to eat many fruits. Sometimes they fly to another tree with the berry in their bill and eat it there. They often fly to our oak tree, eat the syringa fruit, and drop the hard internal seed without swallowing it. Thus the starlings contribute to the spread of the syringa tree.
Red-winged Starlings feed mainly on fruit, but also on a variety of arthropods. It is considered a significant disperser of seeds of invasive aliens like Rooikrans Acacia
cyclops and syringas.