A two or three day trip up the West Coast from Cape Town makes for great birding for waterbirds and fynbos birds, including several South African endemic species. Some of the hot-spots are listed below, although additional sites along the coast are also worth stopping at.
Dolphin Beach Pans
These two pans are near Cape Town and provide good sightings of common water birds. The open water supports ducks and gulls and terns. Other common waterbird species include Glossy Ibis, Greater Flamingo, Common Greenshank and Black-winged Stilt. When the water levels are lower, more waders may be present. In early summer weavers and warblers breed in the reeds. In summer a variety of aerial foragers visit, like Barn Swallow, White-throated Swallow, Greater Striped-Swallow, Brown-throated Martin, Little Swift and Alpine Swift. Special birds that have been recorded include African Jacana and Palm Swift.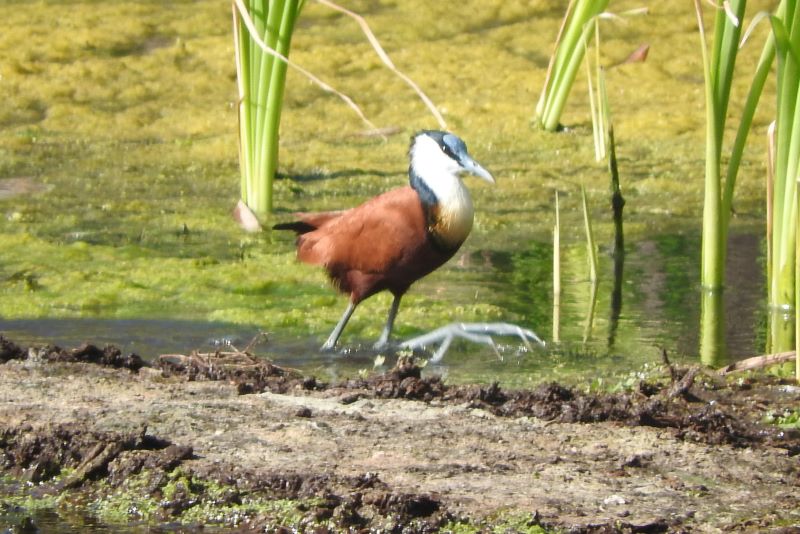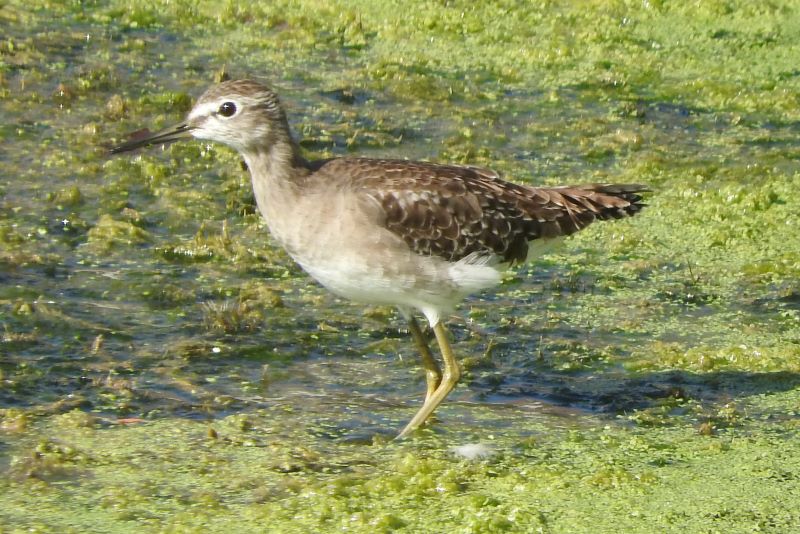 Koeberg Nature Reserve
Koeberg Nature Reserve is about 40km north of Cape Town. This tract of coastal strandveld has specials like Cape Spurfowl, Cape Bulbul, Karoo Prinia, Grey-backed Cisticola, Karoo Scrub-robin, Cape Robin-chat, Bokmakerie, and Cape Bunting. Several canary species occur – Cape, Yellow, White-throated and Brimstone Canary.
To see birds here, one can visit the area around the visitor's centre (for Rock Kestrel and other species) or walk along one of two trails.
Tienie Versfeld Nature Reserve
Tienie Versfeld Nature Reserve is a small island of grassland, fynbos and seasonally inundated wetland, surrounded by the cereal crop farms and pastures. The best time to visit is spring (August and September) when one can see spring flowers and displaying birds.
Common grassland species are Red-capped, Large-billed Lark, African Pipit, Cape Longclaw, and Capped Wheatear. Cloud Cisticola is abundant and best found by listening for its distinctive call.
West Coast National Park
The West Coast National Park is well known for its waders and other birds. While driving in the park one may see raptors like Rock Kestrel, Black Kite, and the special Black Harrier quartering over the fynbos. Karoo Scrub-Robin and other fynbos birds like White-throated Canary may be seen too.
Abrahamskraal hide overlooks a waterhole that attracts waterbirds like Spoonbill, Sacred Ibis, ducks, and others. Black Crake, Purple Swamphen, and other species skulk in the reeds. Namaqua Dove, Yellow Canary, Cape Bunting and other species come to drink. Cape Weavers breed in the reeds in spring.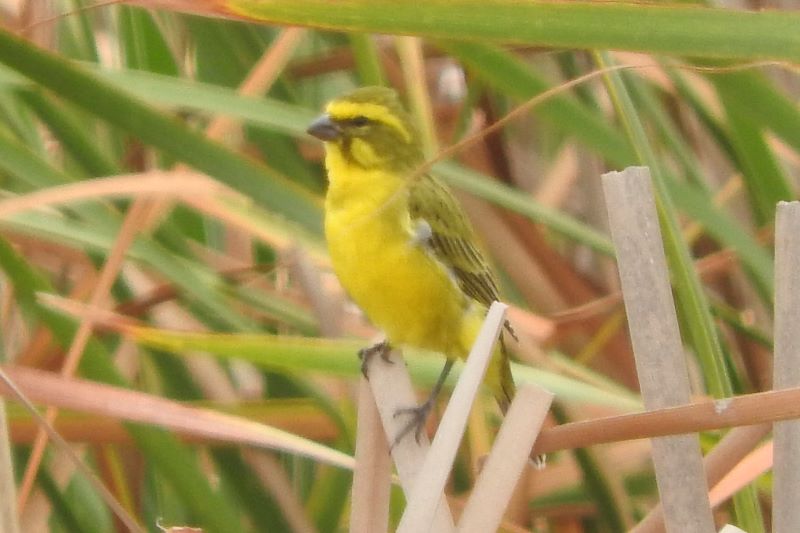 Around the Geelbek Restaurant Cape Weavers breed in the gum trees and may be seen year round. Pearl-breasted Swallows may be seen here too. The line of gum trees between the restaurant and hide attract a variety of birds.
There are 3 lagoon hides: 2 at Geelbek, and one at Seeberg. Common waders in summer includ many Curlew Sandpipers, Little Stints, Ringed Plovers, Whimbrel, and Turnstone. Resident waders include Three-banded Plover, Kittlitz's Plover, and Chestnut-banded Plover.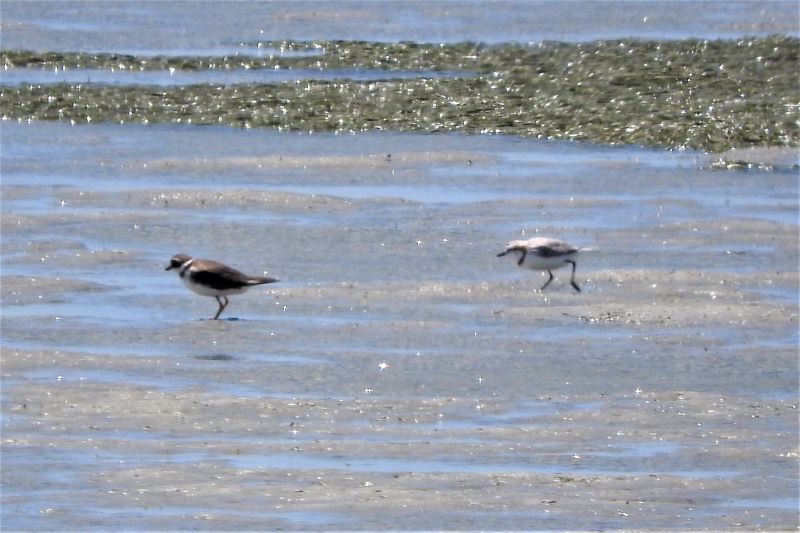 [South of the WCN Park, one can also visit Rooi Pan and Yzerfontein].
Velddrif and Lower Berg River
Near the mouth of the Berg River one can see thousands of Cape Cormorants flying inland to roost in the evening, and out to sea to forage in the morning. Also Kelp and Hartlaub's Gulls, Swift Terns, and in summer Common and Sandwich Terns, may be seen here. A really great place to observe birds while having drinks or meals at the riverside restaurant. Black-crowned Night Heron and Pied Kingfishers are also regular.
At the Riviera wetland (mudflats near the Rivieria Hotel) one may seen Caspian Tern,  Little Egret, a wide variety of waders and other birds. Further upstream one can access the river at De Plaat.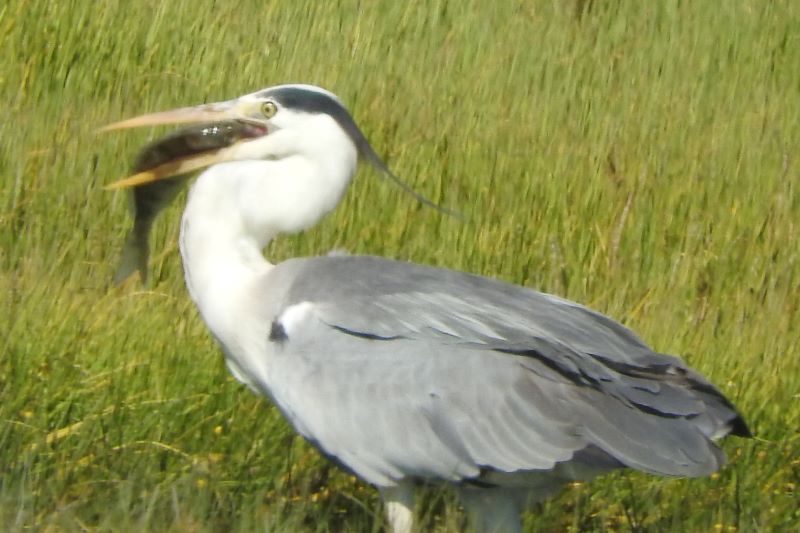 On the south side of the Berg River one can visit several sites – farms Kuifkopvisvanger, Kliphoek and Langrietvlei. These provide good bush birding as well as water birds including specials like phalaropes.
Lamberts Bay and Bird Island
A variety of sites can be visited on the way to Lamberts Bay, including Rocher Pan
The main birding attraction is the spectacular breeding colony of Cape Gannets, easily reached on Bird Island by a bridge. Lamberts Bay also has waterbirds and other fynbos birds at Jakkalsvlei and surrounds.
 To see amazing West Coast birds, book a birding trip with Birds4Africa !