We spent 4 days in Saldanha (all days very windy!), 4 days in Cape Town and finally 4 days in Betty's Bay for a bird photography trip.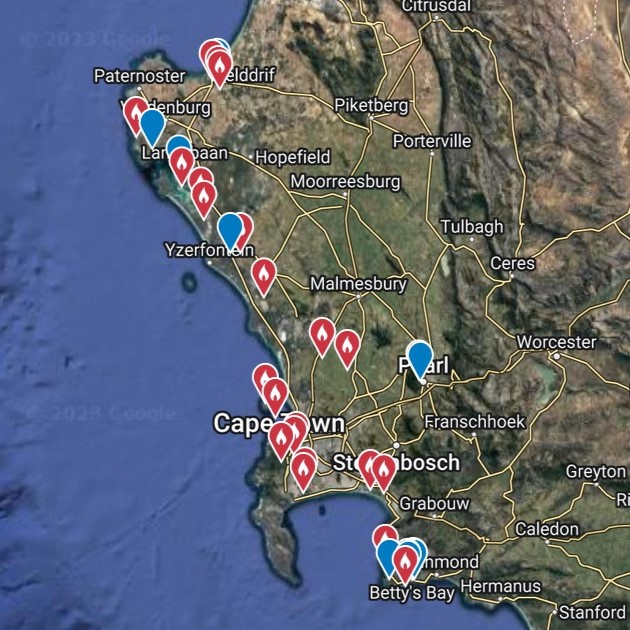 To Saldanha, 27 Oct
We left a rainy Cape Town and our first birding on the way to Saldanha was along the Darling Hills/Groote Post Road. We observed an immature Jackal Buzzard on the ground feeding on prey, while adult(s) called in the nearby trees at the entrance to the winery. We then stopped at Tienie Versveld NR even though it was windy. We managed to tick a few regular species. We stopped at the West Coast Farm Stall for lunch where Cape Weavers sipped nectar from the large strelitzia plant at the back. We drove through the West Coast NP, stopping at Abrahamskraal hide where we observed an African Marsh Harrier visiting a hidden nest in the reeds several times, bringing prey. The tide was out at the Geelbek hides so few waders were seen, but there was a little more variety at the Seeberg hide.
In Saldanha we stayed in the Hoedjiesbaai Hotel. From my room and restaurant 1-2 Palm Swifts were seen at least once every day. Also visible were various coastal species, and many Hartlaub's Gull with pinkish heads.
Velddrif, 28 Oct
We drove to Jacobs Bay where we ticked 2 Antarctic Terns together with a bunch of Common Terns and other species. Next was Kliphoek Salt Pans where we unfortunately did not find the phalarope, but Chestnut-banded Plover and many Black-necked Grebes presented good views. Lunch in Velddrif and a visit to the Berg River Estuary produced more regular waterbirds. We visited Kliphoek again and added some more species, but still no phalarope. White-throated Swallows continued twittering and flying in spite of a brief gale force wind.
West Coast NP, 29 Oct
We visited the park again, spending time at the different hides. At Geelbek we were again disappointed at the low number of waders just before high tide. At Abrahamskraal the White-throated Swallows had a nest but were not breeding at the time. We also saw a Banded Martin and some Barn Swallows at this hide. At Geelbek a Rock Martin adult fed 2 young. The Pearl-breasted Swallows were feeding small chicks in a nest. In tghe late afternoon we visited a home in Langebaan where Rock Kestrels were nesting box that had originally been put up for owls. Two chicks were ringed and amazingly I caught an adult at the next by hand and ringed it too.
Back to Cape Town, 30 Oct
We stopped at Tienie Versveld again, as well as the start of the Darling Hills road, adding some more species for our trip list. We stopped in Philadelphia for lunch and found lots of birds along the Philadelphia R304 road. Interestingly a Southern Masked Weaver was nesting on a barbed wire fence – this occurs in the W Cape occasionally but is more common on the highveld. In Cape Town we stopped at the Rondebosch Common and Keurboom Park for sparrowhawks.
Cape Town, 31 Oct
An early morning visit to Rondebosch Common gave great views of the pair of Rufous-breasted Sparrowhawks after a patient wait. One bird took a small twig to the hidden nest, and later the other bird brought prey. We then visited Strandfontein where we found the far out of range Black-eared Sparrow-Lark that had been reported here for the last week or so.
Paarl Mountain, 1 Nov
We enjoyed a wide variety of nectarivores and fynbos birds along Jan Phillips Drive and Meulwater Wildflower Garden on Paarl Mountain, but unfortunately did not get a good view of Protea Canary.
Robben Island, 2 Nov
At dawn we visited Keurboom Park for better views of the juvenile Black Sparrowhawks. The adults were not present but the young birds were vocal and active. A trip to Robben Island produced some good views of Chukar Partridge and other regulars. It was also great to see Crowned Lapwing near the prison, a species now rare in Cape Town, although still found in agricultural areas outside the city.
Kirstenbosch Botanical Garden, 3 Nov
A visit to Kirstenbosch produced a sighting of a calling Brown-backed Honeybird but unfortunately the wind picked up and the bird disappeared before a photo could be taken.
Betty's Bay, 4 Nov
On our way to Betty's Bay we stopped at Macassar Sewage Works and Paardevlei to add waterbirds. As we left Macassar we heard a Diederik Cuckoo. We then spent some 30 minutes watching 2 cuckoos calling and fighting. A male Cape Weaver occasionally flew at the cuckoos but they did not pay it much attention. Interestingly there have been regular sightings of this cuckoo in other areas around greater Cape Town, unlike previous years when it has been more scarce. We then drove through to Rooi-Els where we obtained a good view of a single Cape Rockjumper. After checking in at the Trailhouse, we went for a late afternoon visit to Pringle Bay. AT dusk we finally heard Cape Eagle-Owls calling high on the ridge and a little later saw one flying.
Betty's Bay area, 5 Nov
Another visit to Rooi-Els eventually produced amazing sightings of 2 target species. After a long wait of general birding, on our return walk we saw 2 Ground Woodpeckers quietly feeding very close to the road, resulting in some great photos. While following them we came across a family party of Cape Rockjumpers – a male, female and juvenile. They foraged on the road edge for some time, the juvenile being fed by the adults. After lunch we went to the Stony Point Penguin Colony. It was still closed due to storm damage, but there were lots of penguins on the beach, some of them moulting. We visited Pringle Bay late afternoon again but did not stay until dusk.
Betty's Bay area, 6 Nov
An early morning visit to Pringle Bay did not produce calls of the Cape Eagle-Owls, but the usual fynbos birds were present. We had a pleasant visit to Harold Porter Botanical Gardens, hearing a very vocal pair of Victorin's Warblers singing for a long time in Disa kloof. Yellow Bishop male was seen well, as in all the other fynbos sites around Betty's Bay.